Start Earning Money with Flirt4Free!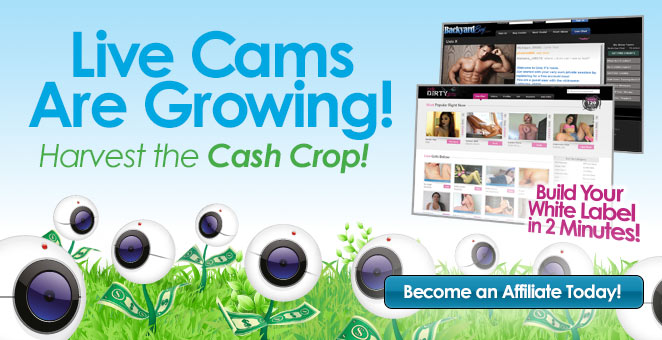 Optimized Live Cam Conversions
Beyond our high caliber performers and quality customer experience we employ many techniques to help convert your clicks into long-time paying customers. We have sophisticated email marketing campaigns from white-listed IPs, performer contests with cash prizes and customer promotions with sales and discounts. Further, we instill a sense of community in our chat rooms and website that keeps customers coming back; proving that not all live cam products are created equal.
Existing affiliates can login to access our extensive collection of promo materials. If you're not yet registered, please signup to get started.
We offer payout models that fit any business model.
$2 PPL
$50 PPS
20%-30% RevShare
Create your own Live Cams site! We provide the performers, the business model, the promotions, remarketing emails, free hosting, and free consulting.
Choose from multiple templates.
Pick your own color.
Use your own brand.
Choose from multiple templates.
Hottest Models
Straight
Gay
Transgender
200+ Categories
Multiple Payout Options
However you want to get paid, we can pay you through Mail, bank-Wire, Payoneer, or FedEx on a net 15 payout (the 15th of every month for the previous month).
Latest News & Updates
10-99s, Awards, Oh My!
Monday, February 1, 2016
Attention US-based Affiliates:
We just wanted to inform you that we officially finished sending out 10-99s for US-based affiliates. Please allow a few weeks to receive these in the mail. If your address has changed or you have any issues, please email us at Sales@Flirt4Free.com.
Side note: Thank you to everyone that voted for us, we won Best Affiliate Program at both the Cybersocket Awards and the XBIZ Awards. 2015 was a great year, but 2016 is shaping up to be our best year ever!!
Every Year On Thanksgiving...
Wednesday, November 25, 2015
We have an amazing week of sales! Make sure to promote this week to your customers and take advantage of Thanksgiving/Black Friday/Cyber Monday. If you're looking for special promo banners, you can find them here (remember that they change during the promo):
Promo Banners
The Affiliate Team will be out of the office both Thursday, November 26th and Friday November 27th. If you need anything during that time, please email sales@flirt4free.com.
Have a Happy Thanksgiving!!
Also, if you think we're awesome, vote for us! Here are all the awards that we're nominated for:
GFY Nominations Best Affiliate Manager (Kimi Graffin)
• http://gfyawards.com/vote/128
Best Live Cam Company
• http://gfyawards.com/vote/138
Best Affiliate Program
• http://gfyawards.com/vote/148
Best Company Rep in GFY (Jasmine James)
• http://gfyawards.com/vote/153
GFY Business Person Of The Year (Brad Estes)
• http://gfyawards.com/vote/157

XBIZ Nominations
Affiliate Program of the Year- Live Cam (North America)
• http://www.xbiz.net/index.php?c=awards.market&id=9
Adult Site of the Year- Live Cam (North America)
• http://www.xbiz.net/index.php?c=awards.market&id=9

Cybersocket Web Awards
Best Live Cam Site
• http://www.cybersocketwebawards.com/vote.php


Flirt4Free Fall Update
Wednesday, October 28, 2015
Kevin Saeko has left the building
Don't worry... He really only left our department and has moved into a new position within the company. Our team has grown a lot over the last few years and change is an inevitable part of growth. His skills and attitude have helped us transform our crew into what it is today, we've been very lucky to have his expertise. If you've had the pleasure of working with Kevin, be sure to send him a thank you and farewell!
You'll see this change on your account in the next week, by November 6th. Kimi Graffin is now your Affiliate Manager and can be reached at: Kimi@flirt4free.com. Gabriel Greif, Affiliate Support, has moved up to a new role to better assist any affiliates. Feel free to reach out to him with any questions or concerns at: Gabriel@flirt4free.com Flirt4Free Wins 3 YNOT Awards!In other exciting news...Flirt4Free took home 3 awards from this year's YNOT Award show in Prague! We're proud to announce we returned with: Best Cam Site, Best Live Cam Revenue Program North America and a special Hall of Fame award. It was outstanding to have even been nominated into these categories. To have won 3 awards is an extreme reminder of all the hard work that we put into our product. We'd like to thank all of you who have supported us over the years, we couldn't do it without you!
Happy Halloween!The remainder of the year holds some of Flirt4Free's highest revenue days with Halloween, Thanksgiving, and Christmas. We're working to break affiliate payout records by introducing new promo materials, model and studio promotions, and customer discounts. Halloween is going to be a huge success this year, customer discounts have started and models are already dressing up! We've put together 2 mailer graphics for your marketing efforts. Our promo banners update automatically and are ready to grab HERE
Halloween Mailers:
Girls Or Guys
As always, if we can help with anything, please contact us directly or at Sales@Flirt4Free.com.
Best wishes,
Kimi Graffin Affiliate Manager Kimi@Flirt4Free.com

Kink.com Signs Deal with Flirt4Free for Kink Live
Tuesday, September 29, 2015
Kink.com has announced that it has begun working with leading cams site Flirt4Free to provide the backend to its four-year old cam site KinkLive. Flirt4Free will be working with Kink to rebrand its fetish category, making it the premier destination for live BDSM entertainment on the internet. The KinkLive channel launches today.
KinkLive.com is now a Flirt4Free white-label, with a new entity, Kink Studios, managing content production. Kink Studios will recruit fetish and kinky webcam models, certify models as authentically kinky, and will provide model support to help ensure everyone's success. Kink Studio models are featured at the top of the gallery on KinkLive.com, will automatically be in the Fetish section, and are the exclusive models on the newly launched KinkLive Channel.
KinkLive previously ran on Kink.com's own proprietary camming platform as KinkLive Beta. As the product grew both its audience and model base, however, it proved difficult to scale. In order to find a solution to accommodate the growth, Kink began meeting with other cam companies, and soliciting feedback from its models.
"While there were advantages with many of the companies, Flirt4Free emerged as a clear favorite," says Carl Burckhardt, VP of Marketing for Kink.com. "Not only did they offer the technological back-end we needed, they were very receptive to working with us as a partner, and to accommodating the specific needs of our BDSM and fetish models, many of whom were wary of going on a vanilla site."
In addition to a more stable platform, the new KinkLive iteration will allow models to engage with fans in new ways, including: phone sex, video-on-demand, cam2cam, voyeur shows and mobile. It will also offer a much larger audience, helping models reach much higher payout levels.
"By bringing in Flirt4Free, we will have less downtime, a larger audience and more ways for performers to monetize their shows," says Burckhardt. "The higher traffic should create greater overall revenue opportunities for models."
Flirt4Free has been an industry leader in camming since 1996. The network boasts over 100 million unique visitors to their chatrooms each month.
"Kink is the premier BDSM and fetish brand in the world, says Jeff Wilson, the Director of Business Development of Flirt4Free. "It was clear from our early meetings that there was a tremendous symbiosis. We provide a strong backend and a huge audience, and they bring the authenticity and brand strength. his is going to be a win for all involved."
Flirt4Free Revolutionizes Live Cams with Kiiroo
Tuesday, September 29, 2015
Flirt4Free and KIIROO with FleshLight join forces to take the cam experience to another level. Customers will now be able to get even closer to their favorite model through teledildonics. KIIROO's smart technology will allow customers to feel every touch from their favorite cam model. KIIROO Onyx is an innovative male- masturbator, and the KIIROO Pearl is the linking female-masturbator that complements it. This interactivity is exclusive on Flirt4Free and white labels and will not be offered on any other cam platform.
"Live cams are more than just streaming live video; we learned long ago that the power of the product exists with the relationship between customer and performer. We are excited about how this exclusive integration with KIIROO will help to bring our clients closer together with our models in a manner not possible with earlier devices," said Gregory Clayman, President of Flirt4Free.
Fleshlight, with manufacturing and distribution facilities in four countries, worldwide, successfully handles the delivery of KIIROO products. Their involvement is a key factor for the integration between the two companies. KIIROO`s new devices should be the best seller yet and bring customers into a new world of online sexual satisfaction.
"We`ve add a third dimension to webcam interactivity. Our Pearl and Onyx state of the art devices make it possible to feel webcam girls and guys over the Internet. It's simulated sex in real-time, in such a way you've never seen before," explains KIIROO CEO Toon Timmermans.
The fusion of teledildonics and with live cam technology is blazing a new Frontier in interactive sex.
Right now we are selling them at a discounted rate, so that we get customers to use the devices with the models.
Contact sales@flirt4free.com if you have any questions. Performers that are interested in using the device on our platform can sign up at webcam4money
For more information on these devices click here go to www.Kiiroo.com. For more information about FleshLight visit www.fleshlight.com.

Tutorials & Information